Rarely we get involved in spirituality, very rarely we get ideas to visit temples on a trip and there is 1% chance you have a friend of same thought to go on a trip and that is when I got a call from my friend, Madhu for a tour. We usually make it fun filled with a spiritual tour. The geography was set to Chozha Naadu, however the targets kept changing on where to visit. Till 19th July, 2019 we didn't plan anything on where to go. However, we started off the trip with a plan on visiting Swamy Malai in Kumbakonam, thinking he would guide us to where to go next. I reached my friend house (Urapakkam) early directly from my office, had a quick nap, followed by a heavy dinner. We started off around 9.30 PM and then decided to take the ECR route to avoid tolls. Had our usual break opposite to Pondichery University and then reached Swami malai arround 3.30 AM. We had a good sleep until 5.50 AM, refreshed and finished our darshan @ Swami Malai by 7 AM.
That is when Madhu asked, what's the plan? I literally had no idea and somewhere down in the Memory lane i saw something related Shiva temples while browsing for "Paadal Petra Sthalam". Quickly browsed and figured it as "Saptha Vidangam".
To brief on what is "Saptha Vidangam" – According to legend, a Chola king named Mucukunta obtained a boon from Indra (a celestial deity) and wished to receive an image of Thyagaraja Swamy (presiding deity, Shiva in the temple) reposing on the chest of reclining Lord Vishnu. Indra tried to misguide the king and had six other images made, but the king chose the right image at Tiruvarur.The other six images were installed in ThiruNallaaru, Nagapattinam, Tirukarayil, Tirukuvalai, Thiruvaaimur and Tirumaraikadu.
So, we quickly decided on going to Thiruvarur and then will plan on how to cover remaining temples. Reached Thiruvarur by 8.40 AM. Had a nice Breakfast at Vasan Hotel – Thiruvarur (near old bus stand) a must go place. Thiruvarur, Thiyaraja temple is big and one needs to invest at least few hours during their as the temple area is very big. On should also spend time in Kamalalayam Kulam which is very big.
We completed the darisanam by 10 PM. We had confusions on few places listed on Saptha vidangam as "Google" was asking us if we were right? So asked a local temple priest and he guided us the exact places.
We then switched gears to go to next Vidangam – Thirukaravasal. Here the deity is called Kannaiyiramudayar. From Thiruvarur, thirukaravasal is about 13km and we reached the temple around 10.45 AM.
From there we went to Thirukuvalai – Brahmapuresshwarar temple and reached the temple by 11.20 AM.



We got very much excited and Madhu was very particular and gained confidence that we shall finish all the seven temples by next day 21st July. Our next target was to reach Tiruvaaimur. We started immediately from Thirukuvalai and reached Thiruvaaimur by around 12 Noon. Thirukuvalai to Thiruvaimur is about 11 KM. 


Our next destination was Vedaranyam (Earlier Thirumaraikaadu). We thought we might not be able to see Thiruvaaimur as it might get delayed however, we made it and it was a bonus. We now had our day planned as to see Vedaranyam next and then head back to Thirunallar for the night stay. If then, we would have covered 5 temples out of 7 and then we shall complete the remaining 2 next day and then head back home.
We started off sloowly, and reached Vedaranyam around 1.30 PM. We had our lunch at Lakshmi Narayana Bhavan, our usual getaway near to North Main street. We pulled over our car, under a tree and had a good nap. Slept until 4.30 and refreshed. The beauty of being in a village is that you can be as "Whatever" as you want. We refreshed at a road side pump, like if it was our pump ????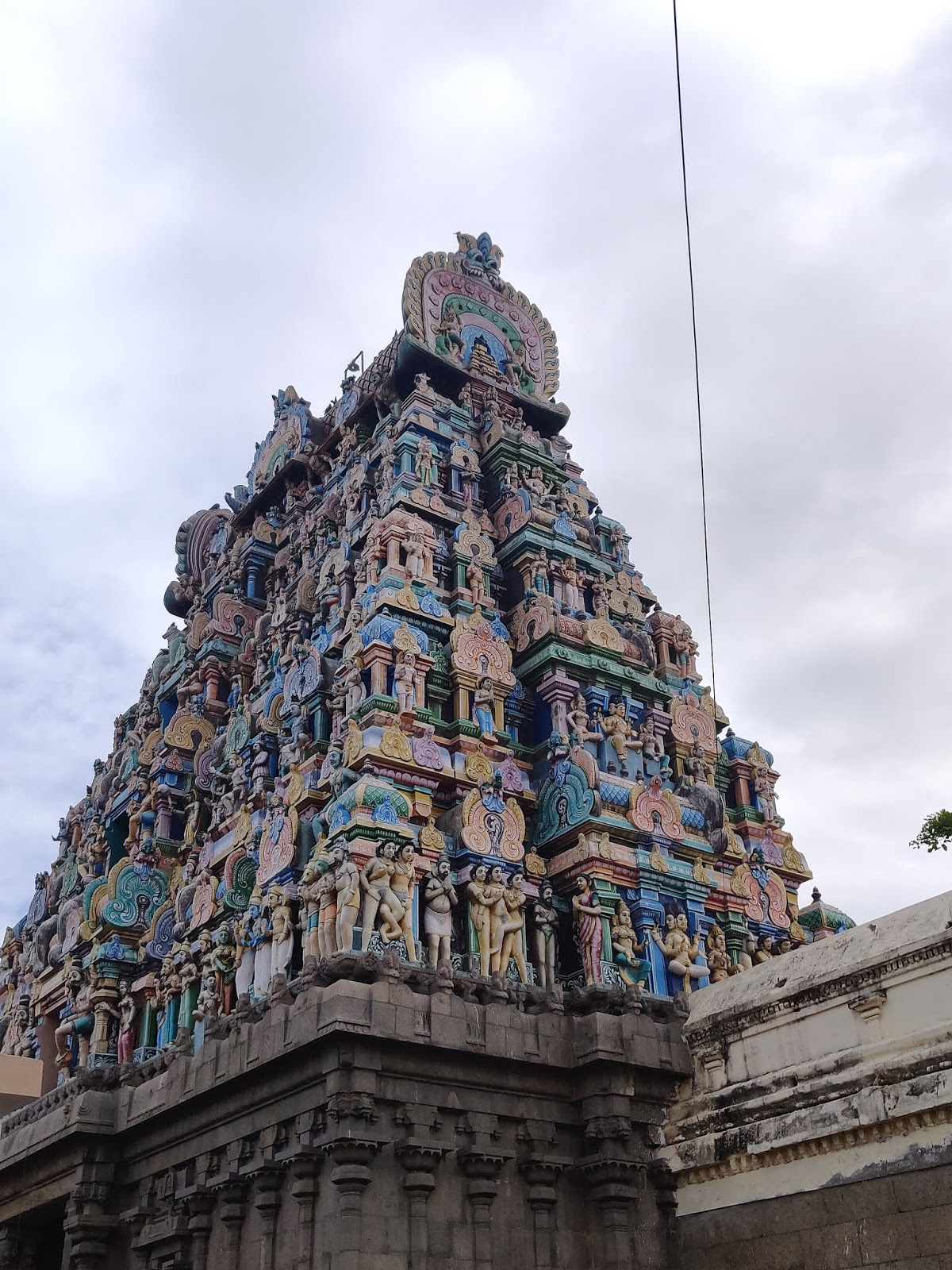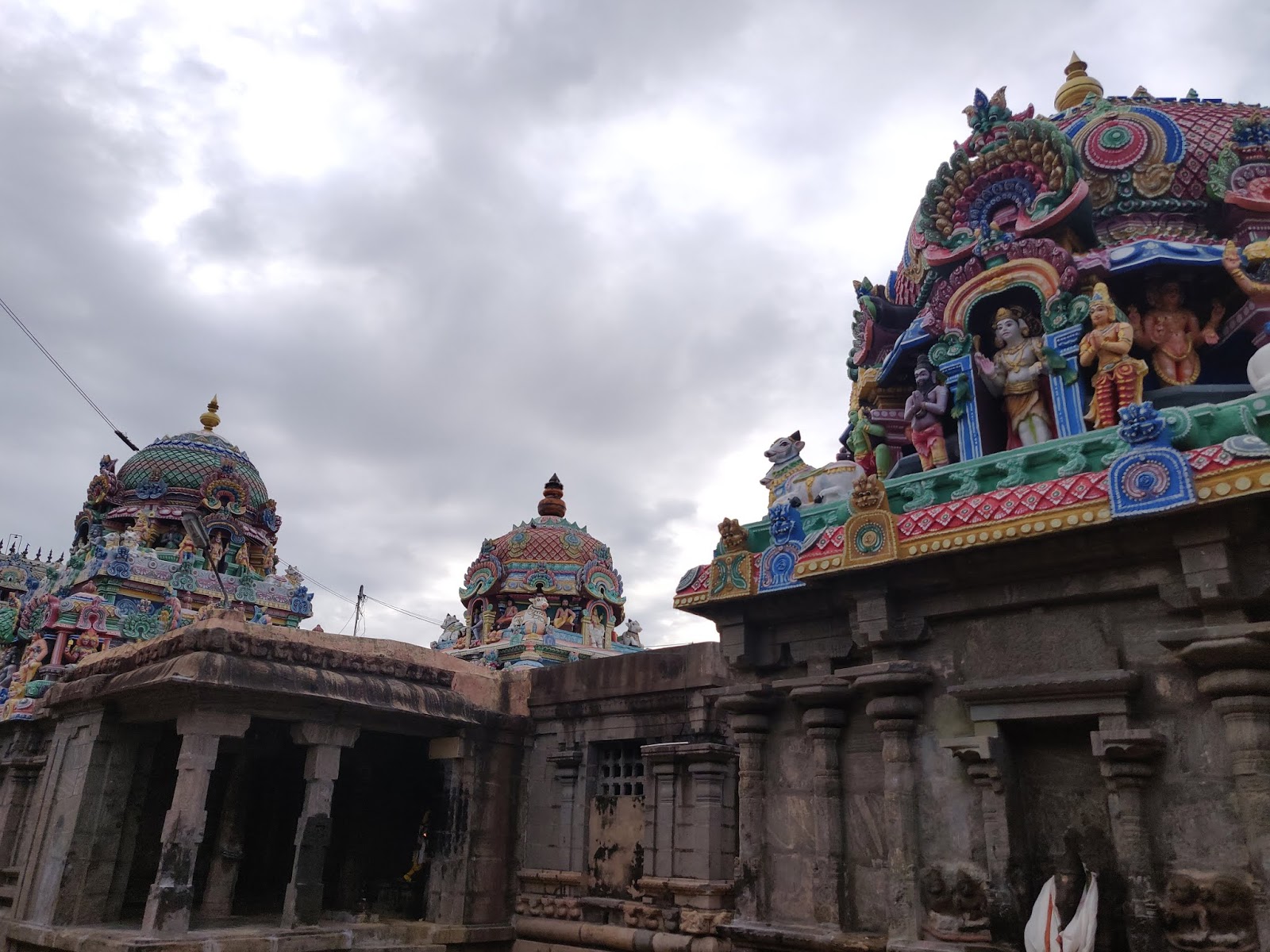 Reached temple by 5 PM finished our darshan and headed back to Thirunallar. While on the way, we surfed for some good hotels for stay and we nailed down on to Hotel Arun Inn, Karaikal. The restaurant provides you with restaurant options, but i suggest you go out and try the local restaurant options.
Next day – 21st July, 2019 we visited Thirunallar by 7.30 AM – Dharbaraneyswarar temple. The temple's main deity is Shiva, however the temple is famous for Saneeswaran. It is a practice that one should not visit Lord Saneeshwaran directly but to go to Nala theertham, worship Lord Shiva and then Lord Shaneeswara.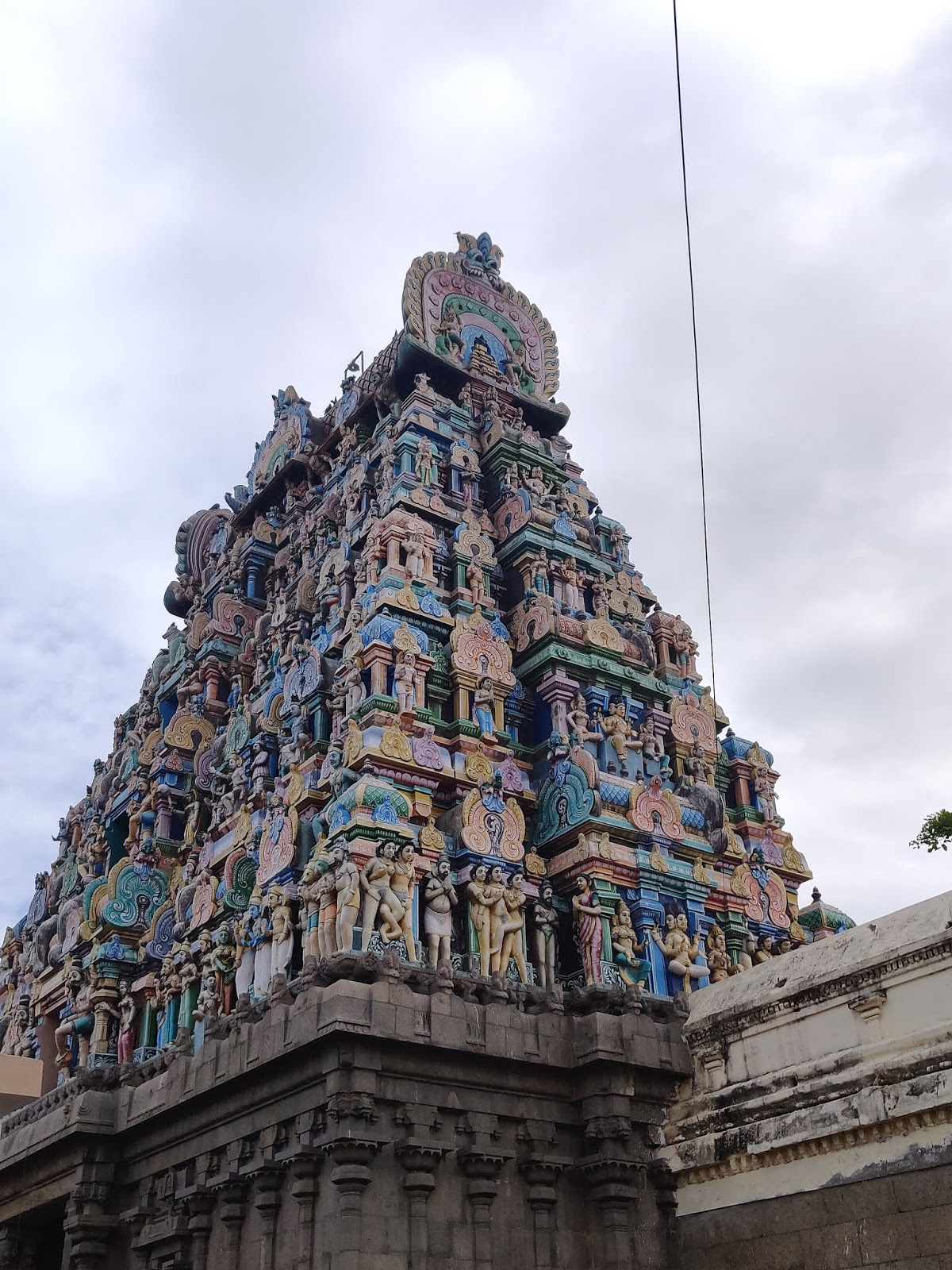 We had one more temple to visit and suddenly the thought of visiting Chidambaram popped up on our way back home. We checked the time and it will be neck to neck to visit Chidambaram by 12 Noon. We wanted to try our luck and started from Thirunallar around 8.05 AM.
Reached Nagapattinam – Kayarohanaswamy Temple, around 8.45 AM and had our breakfast there at a local mess. We had a surprise occasion wherein we were presented with the Abhishekam as a token of our efforts on completing our last and 7th temple of Saptha Vidangam Objective. We quickly completed the darshan and started from the temple around 10AM.
From Nagapattinam Chidambaram is about 85 KM. The view between Nagapattinam to Chidambaram is beautiful. One can actually see vegetation fields on both sides of ECR road and can take a chance to just park your car on road side and get on to the boreset to take a nice bath.
We reached Chidambaram exactly by 12 PM noon and then had a good darshan. Chidambaram temple is one of the padal petra sthalam and a very big temple. One should reserve few hours to understand the beauty of the temple and its historical significance.
We had our lunch on the outskirts of Chidambaram, and then reached back Urapakkam by 6PM.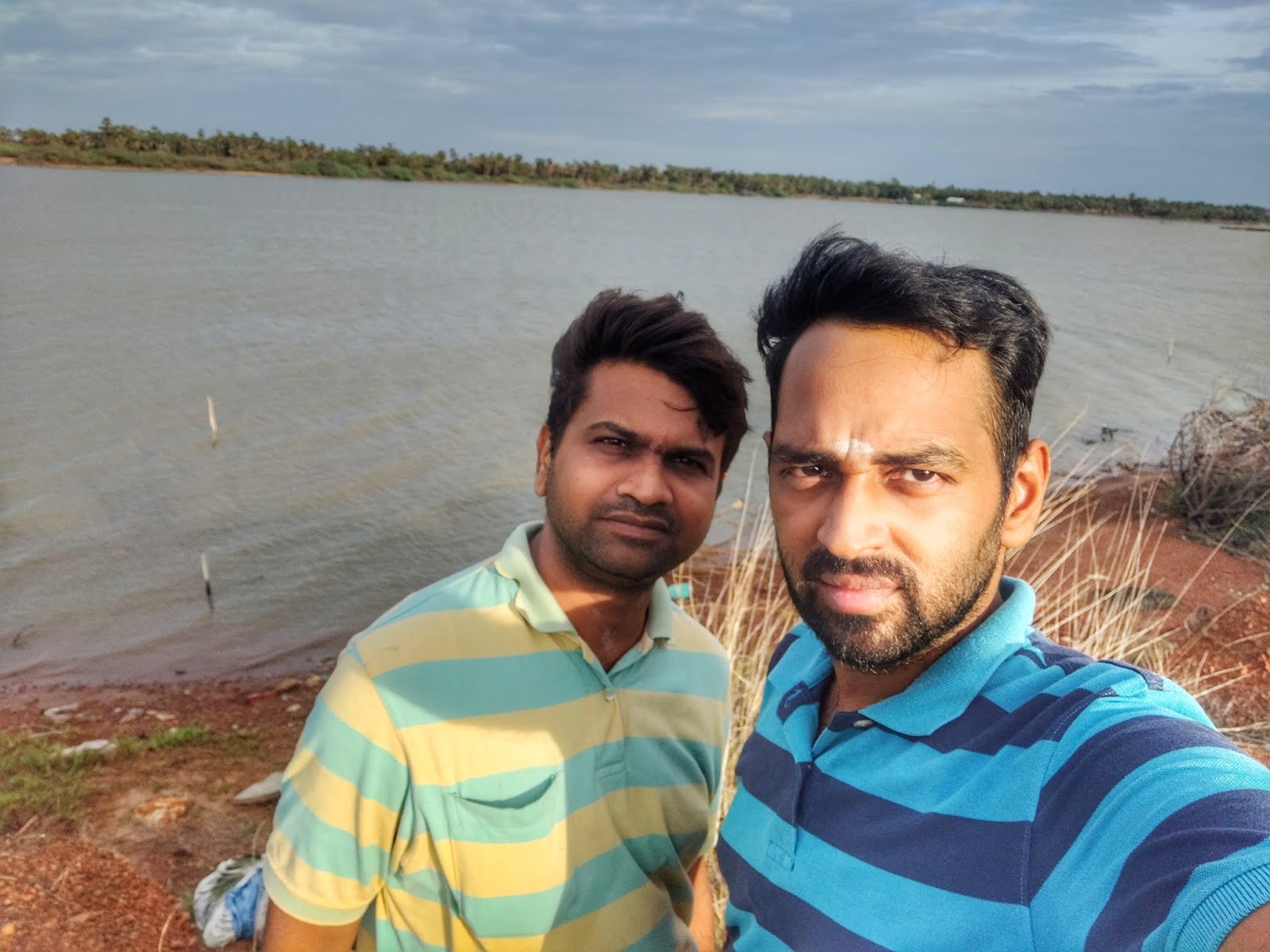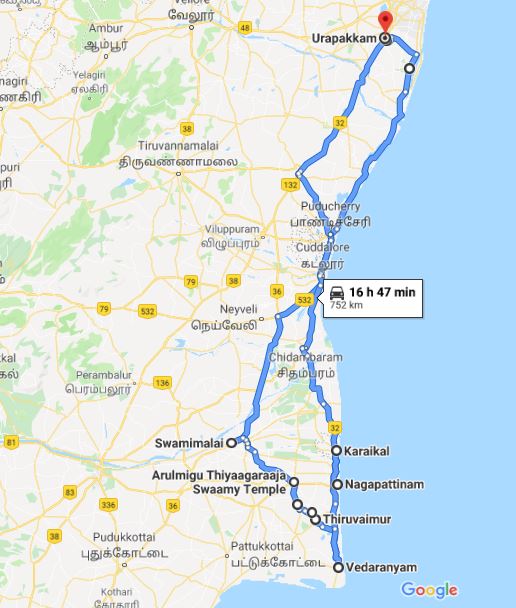 Journey detail – Chennai – Kumabakonam – Thiruvarur – Thikaravasal – Thirukuvalai – Thiruvaaimur – Thirumaraikaadu (vedaranyam) – Nagapattinam – Chidambaram – Chennai
Round trip – 800 KM | 44hrs.