In a coffee break conversation B R Hills came up soon it firmed down into our weekend team activity.
July 2016
Drive Way : Banglore – Kollegale – BR Hills – K Gudi – Chamrajnagar – Gudelpet – Gopalaswamy Hills – Bandipur – Mudumalia – Gudelpet – Mysuru – Bangalore
Distance : 560 KM
We started gathering at Santosh's place around 4 AM and started around 4:30 AM from Basavangudi, Bangalore. Drive direction was Kanakapura – Malavalli – Kollegal – BR Hills 165 Kms. Good road and less traffic made the journey between Bangalore to Kollegal a breeze. After Kollegal we followed a road sign BR Hills straight without taking the right turn iron bridge which was a big mistake. The road went through a very bad stretch of road into few villages before meeting the State Highway 57. Better route would have been driving towards Yeriyur and then taking the State Highway 57 towards B R Hills.
As we entered BRT Wildlife Sanctuary region we had to stop at Forest Check Post fill in the vehicle no. Road from here is a single road so for any oncoming traffic you have to go off the road to give way. Once you're in the forest its just green paradise with the monsoon. We were not lucky enough to see Tiger or Elephant however did see a bright reddish brown barking deer(red muntjac). B R hills welcomed us with a nice misty weather. We drove towards Biligirirangaswamy temple. As you drive towards the Biligirirangaswamy temple hilltop you will be stopped by the arresting view. We stopped at a hairpin bend and started clicking photos for 20 minutes non stop.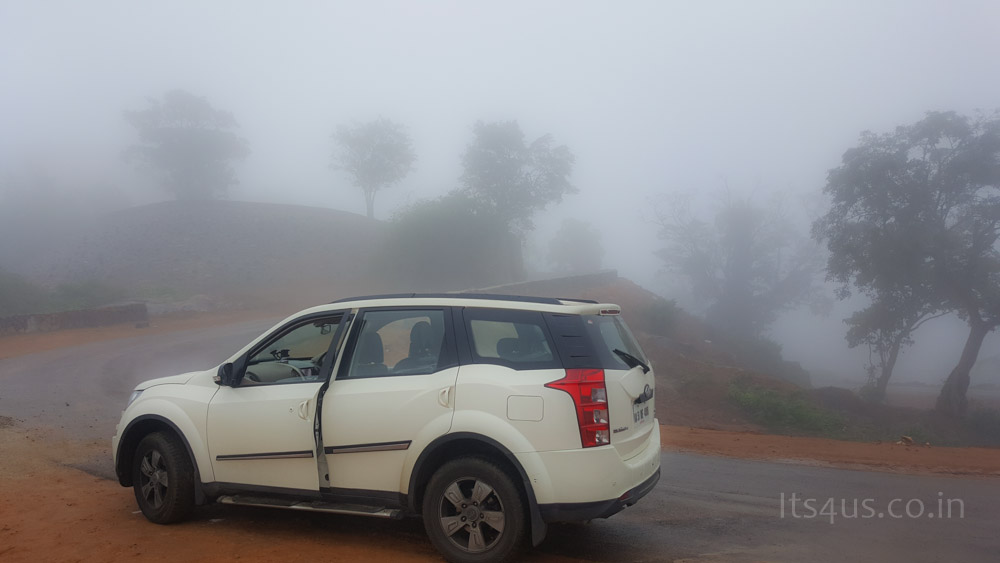 Biligirirangaswamy temple dedicated to Ranganatha is situated at the top edge of the hill. After darisanam we walked around the temple towards bare cliff, overlooking dense forest the spot has a picture perfect view which is overturned by mist every now and then.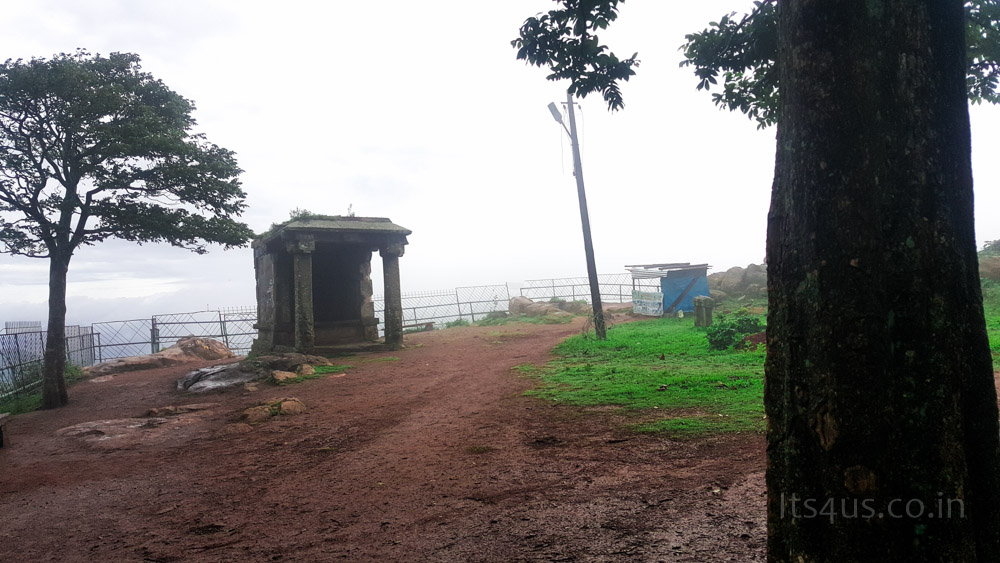 On the way back from the temple we stopped at the same hairpin bend and had our packed breakfast, Deepika had got up early at 2 AM to prepared iddly and the hot yummy groundnut chutney. After gulping down iddly we quickly stopped for Tea and headed towards Himada Gopalaswamy Temple via K Gudi Wilderness Camp , Chamrajnagar & Gundlupet.
Road towards Chamarajanagar via K Gudi is a single road inside the reserve forest. Please do be on a watch out for buses. On the 25 Kms wildlife stretch we saw a lot of different types of bird and spotted deer at a very close distance. There is one check post soon after K Gudi and another at the end of the forest we had stop and fill in details.
The next 17 kms from the forest border towards Chamarajanagar was horrible as road work was going on. With in few mins the entire group fast a sleep the bumpy roads took out all the energy out of me. After a terrible 40 reached Chamarajanagar stopped at a small restaurant for refreshment.
Road from Chamarajanagar to Sri Hangala was good, Sri Hangala is on the Mysore – Ooty road from where we need to take right for Himada Gopalaswamy Temple. The complete stretch we muched snacks which was brought by Supriya and Santosh. Sri Hangala to foothills of Himada Gopalaswamy Temple was the second stretch of bad road we had to deal with.Sunflower field made it up for us.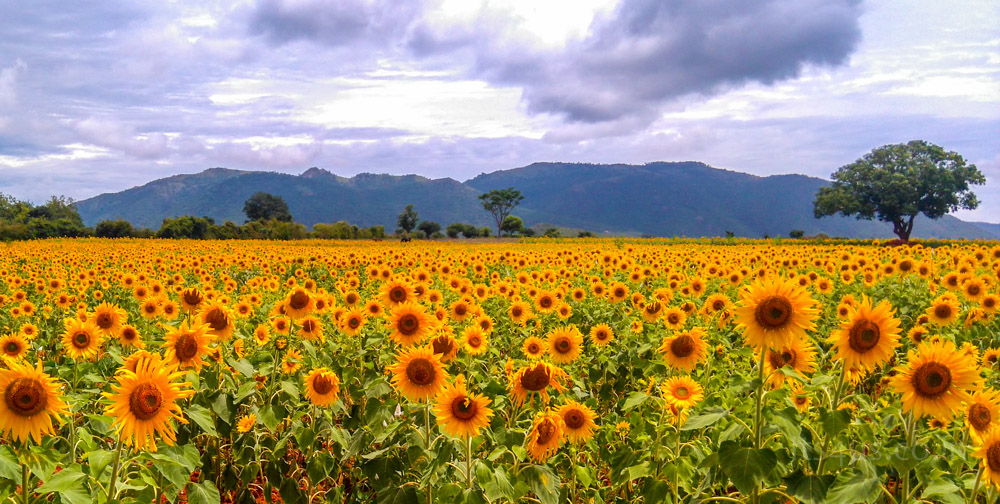 Around 1:20 PM we reached Gopalaswamy Hills Check Post, from here we had to take the KSRTC to the hilltop for Himada Gopalaswamy Temple. After 45 mins of heavy noisy ride reached to a breathtaking 360 degree landscape view.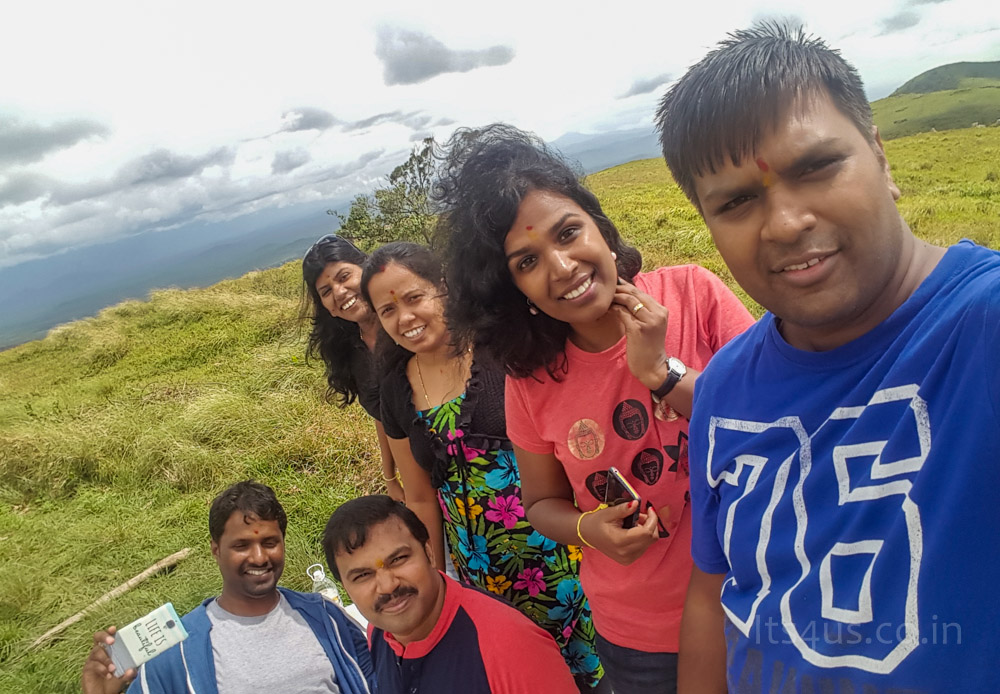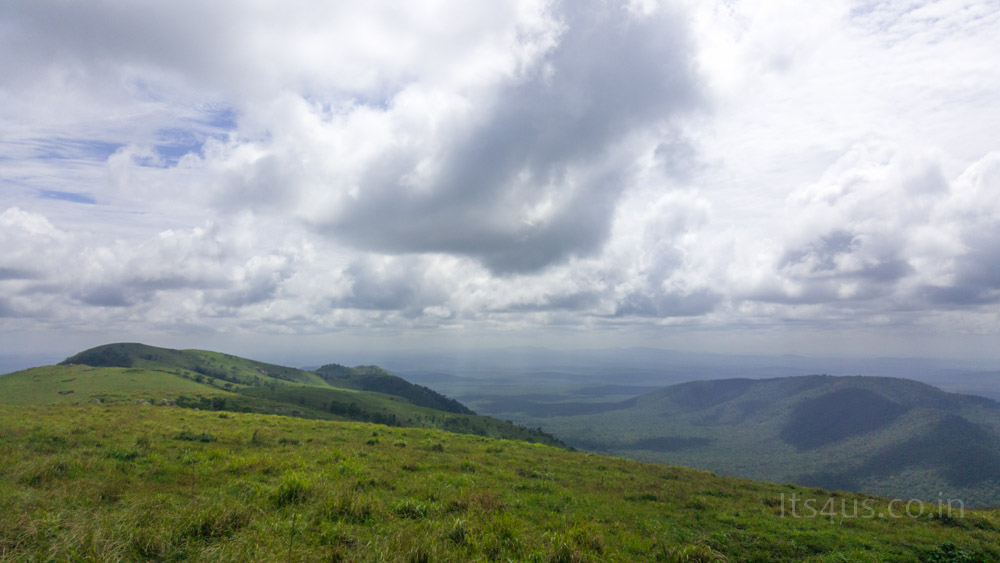 What good it would be if we did not touch Bandipur and Mudumalai reserve so around 4 PM we drove towards Mudumalai for our wildlife luck and spin around towards bangalore. We did see a young male elephant, mongoose,gray langur and deer.
This innocent kiddo gray langur jumped right upon the car as we slowed down for speed breaker and it took a while to make him get down.
We reached Sri Ganapathy Sachchidananda Ashrama around 6:30 PM visited Hanuman Temple & Venkateswara Temple. Had North karnataka meals at Kamat and started at 8:30 PM towards bangalore.
As we started we knew that the journey time needs to be brought down so we can reach early. With a tight schedule we raced back straight into heavy rain. Well this is not a surprise as when ever i had been on Mysore to Bangalore night drive it would rain nasty this day want an exception. This did not slow down us ( well it did from 100ish to 40ish) reached Kengeri around 10:20 PM dropped of Supriya and then Deepika , Vinayak , Santosh & Pari at 11ish.
Rapping the day with 560 KMS